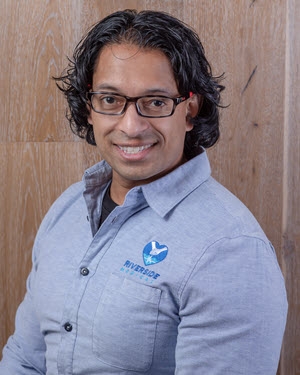 Dr. Rithesh Ram
Team Members -
Physician, President, Founder & Family Man
---
Specialty: Family Medicine, Epidemiology, Teaching, Medical Leadership
Special interests: Emergency Care, Mental Health, Chronic Pain,
biographical background:

Dr. Rithesh Ram is a family physician in Drumheller, Alberta. He is an AHS staff physician in the Central Zone. He was born and raised in Camrose, Alberta.
Dr Ram is passionate about teaching, and is a Clinical Assistant Professor in the Department of Family Medicine where he is the residency training lead for Drumheller. He also recently became the Director of the UCLIC Program (University of Calgary Longitudinal Integrated Clerkship) which is a research-based, educational experience that allows medical students to learn in the continuum of patient care throughout southern Alberta.
In rural medicine, Dr. Ram works in multiple locations including: his primary care network (including chronic pain clinic), acute care in the hospital, in the emergency department, in the operating room, and in long term care. He is currently the Clinical Lead for Acute Care and Emergency at the Drumheller Health Centre.
Dr. Ram, aside from his MD, has a BSc in Electrical Engineering from the University of Alberta and a PhD in Epidemiology from the University of Calgary. He is currently Vice Chair of his PCN, a recent addition to the executive of the CZMSA (Central Zone Medical Staff Association), on the board of the Alberta Medical Association's Health Issues Council, and a primary care representative on Toward Optimized Practice (TOP) clinical practice guidelines. Dr Ram is also involved with the $400 million dollar AHS Provincial Clinical Information System (CIS) as the Provincial Knowledge Lead for Primary Care.
Dr. Ram resides in Drumheller with his family. Dr. Ram enjoys reading endless stories to his children, walking his dog amongst the hoodoos, curling during the season, and remaining active on a daily basis (even just doing push-ups while on call when there is even the shortest break).
Favorite quotes by Sir William Osler:
Medicine is a science of uncertainty and an art of probability.
We are here to add what we can to life, not to get what we can from life.
The good physician treats the disease; the great physician treats the patient who has the disease.